PRECEDE–PROCEED Model is the theory by Lawrence Green. The model or theory describes patterns of health behavior change.
PRECEDE stands for Predisposing, Enabling, Reinforcing Causes in Educational Diagnosis and Evaluation. That is direction in analyzing or diagnosing and evaluating behavior for health education (promotion) interventions.
Also read: ABC Theory: One of Theories of Health Behavior Change
Meanwhile, PROCEED stands for Policy, Regulatory, Organizational Construct in Educational and Environmental Development). This PROCEED is the direction in planning, implementing, and evaluating health education (promotion).
So if you want to assess a behavior then use PRECEDE. Meanwhile, if you want to assess an intervention program from planning, implementation to evaluation, use the PROCEED scheme.
Also read: Diffusion of Innovation Theory in Health Promotion
The Framework of PRECEDE–PROCEED Model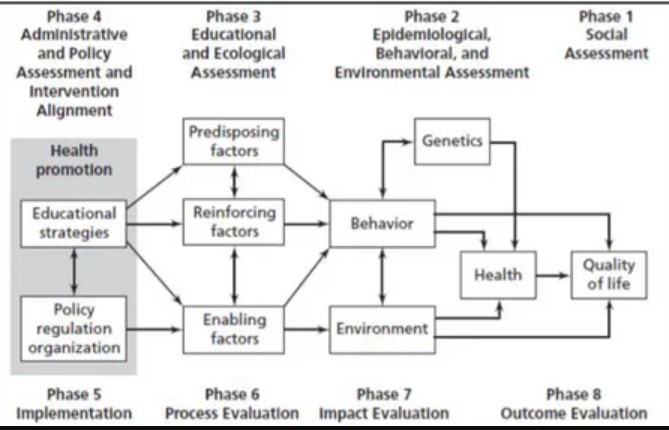 In the theoretical framework above, there are 8 phases, where phases 1 to 4 are the assessment or assessment section, while phases 5 to 8 are the implementation of the program until the assessment of the program's success.
According to the theory by Lawrence Green and colleagues (1980) states that human behavior is influenced by two main factors, namely behavioral factors (behavior causes) and factors outside of behavior (non-behavior causes).
Furthermore, the behavior itself is determine by these 3 factors:
Also read: WHO Models: Behavioral Changes Theory
Predisposing factors, internal factors that include knowledge, attitudes, beliefs, values and perceptions.
Enabling factors, namely external factors that include the availability of resources, accessibility to health services, funds, etc.
Reinforcing factors include support from outside parties such as family behavior, health workers, relatives, etc.
In general, Lawrence Green's theoretical framework used in health research focuses on the PRECEDE section, namely Predisposing, Reinforcing and Enablic Factors.