Homemade cinnamon rolls is very easy to cook. Most people loved this bread as their afternoon snacks.
Cinnamon known as the spice that has a strong aroma, warm, with a sweet taste. As the name implies, this roll bread has a soft texture and a very fitting eaten with tea or coffee.
Besides the sweet and warm taste, it turns out that cinnamon has its own benefits for health. Cinnamon is known to act as antioxidants, antimicrobial, anti-inflammatory, anticancer and antidiabetic!
You can find this cinnamon roll in cafes or bakeries. But you can make your own cinnamon rolls at home, easy and it doesn't take long time to cook.
Easy Homemade Cinnamon Rolls Recipe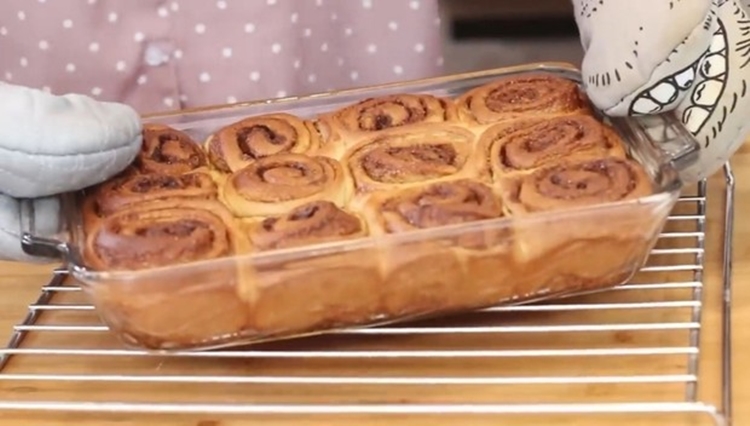 Ingredients:
200 gr flour
30 ml warm water
50 ml milk
50 gr sugar
1 egg
25 butter, melt it
1 teaspoon instant yeast
2 teaspoon cinnamon powder
Salt to taste
Raisins, palm sugar or chocolate chips for filling and topping
Also read: How to Make Pancake, Easy and Simple!
How to cook:
In the first container, pour the warm water and mix with yeast, stir and let stand until frothing.
The second container, put the flour, add sugar and salt, stir until it becomes a dough.
Next, add the eggs, melted butter, liquid milk, and yeast water mixture then knead until smooth.
Cover the dough with plastic wrap and let stand for about an hour.
After the dough expands, add the sugar and cinnamon powder filling then mix until blended.
Flatten the dough with a rolling pin to form a square and then spread the butter
Sprinkle raisins, palm sugar or choco chips according to taste then roll the dough.
Cut the dough rolls with 1.5 cm thick then put the pieces in a pan that has been greased with butter.
Bake the dough for 15-20 minutes at a temperature of 177 degrees Celsius.
Homemade cinnamon rolls ready to serve.
It;s easy to make cinnamon rolls, right? If you want to add toppings, add chocolate jam, honey or palm sugar. Cinnamon rolls are ready to accompany your afternoon tea time.
Also read: Homemade Ice Cream Without Mixer, Easy and Healthy
Notes from DeveHealth:
Try this easy homemade cinnamons roll recipe as your healthy snack ideas. The content of cinnamon has a lot of benefit for anti-cancer and anti-tumor, it is easier to make it yourself and can control sugar levels!